Are you looking for bathtub refinishing, reglazing, and repair companies in Lakewood, NJ? If so, look no further than Jemco Reglazers. Our resurfacing and restoration company can help you reglaze your tub, and our contractors have an unparalleled level of experience working with bathtubs of all shapes and sizes. We are confident that we can help you fix your bathtub in Brick, NJ as well, so learn more about our services below. Then, give us a call to ask for a quote. Let us show you why we are one of the top bathtub refinishing, reglazing, and repair companies in Lakewood, NJ!
We Specialize in Bathtub Repair & Restoration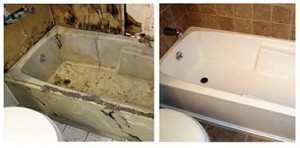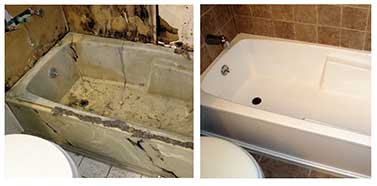 If you are frustrated with the look of your bathtub, you might be thinking about replacing the entire thing. When you take a look at how expensive it is to replace an entire bathtub, you'll need another option. At Jemco Reglazers, we specialize in bathtub repair and restoration in Brick, NJ, and we can help you restore the original appearance of your bathtub.
Our reglazing, repair, and refinishing services address a variety of issues with your tub. For example, there might be some chips and cracks in the surface of your bathtub that you cannot get out, or maybe there are some stains and blemishes that you cannot remove. These are among the most common reasons why people call us, and we can use the latest tools and techniques in the industry to help you fix these concerns.
Contact Jemco Reglazers to learn about our bathtub restoration services!
Our Bathtub Reglazing and Refinishing Process in Lakewood, NJ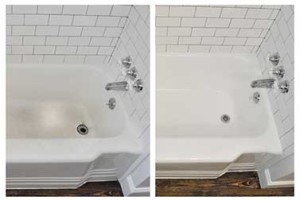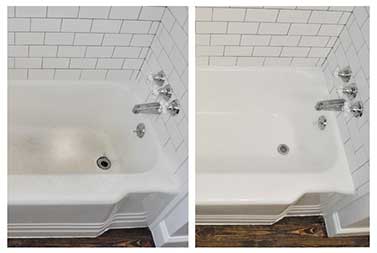 If you decide to work with our team in Lakewood, NJ, we will follow several steps to help you restore your bathtub to its original form. Some of the steps we will follow in Brick, NJ include:
We will always start by stripping the old finish. That way, we can get the damaged surface out of the way and take a look at the rest of your tub.

Once the old finish is off, we will sand down the bathtub to create a smooth surface. This will make it much easier for us to work on the rest of your tub.

Then, we will repair any holes or cracks we see in the surface, filling them in to make your tub look beautiful.

Finally, we will apply multiple layers of coating and sealant to restore your tub.
Call Jemco Reglazers today, the North Jersey bathtub repair experts!
Tile Refinishing is More Affordable Than Replacing Your Tiles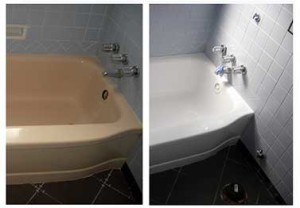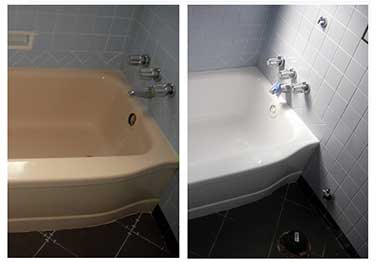 We are also here to help you take care of your tile floors. If you have questions or concerns about the state of your bathroom tile floors, we can help you with that. Perhaps you have concerns about stains and blemishes, or maybe there are some cracks and chips that you need to remove.
Our contractors have worked with different types of tile, and they have seen it all. We will follow all of the best practices in our field to help you restore your tile floors to their original form, making sure they reflect the beauty of your bathroom. Reach out to our team today to learn more!
Call Jemco Reglazers today for a free, no obligation bathtub reglazing service quote!
Call Jemco Reglazers for Help With Your Bathtub and Tile in Lakewood, NJ
If you are in Lakewood or Brick, NJ, we can help you with all of your bathtub and tile needs. We have tackled a number of different challenges over the years, and we have become one of the top bathtub refinishing, reglazing, and repair companies in Lakewood, NJ because of our commitment to our customers and clients. We even offer bathtub reglazing in Middletown, NJ. Give us a call today for a free quote!
Over time, your bathtub may show signs of wear and tear, but replacing it can be expensive and inconvenient. That's where our bathtub reglazing services come in. We restore the original shine and smoothness, extending the life of your tub and saving you money. Our company is proud to be a leading provider of bathtub reglazing in Morris County, NJ. We've earned a reputation for our commitment to customer satisfaction and superior workmanship with every bathtub repair in Somerset County, NJ.