Jemco Reglazers is a top-rated bathtub reglazing company proudly serving the communities of Edison & Woodbridge, NJ. With a vast range of services under our belt, including bathtub repair, tile reglazing, and much more, we have garnered a reputation for excellence in our field. If you are looking for help with refinishing, resurfacing, or reglazing your bathtub or tile in Edison, NJ, our contractors can help you. We understand exactly what is required to reglaze a tub, and we are here to help you. Learn more about our services below, and don't hesitate to contact us today for a quote!
Why Choose Bathtub Reglazing?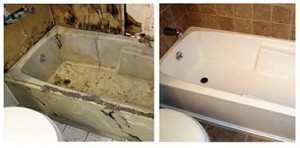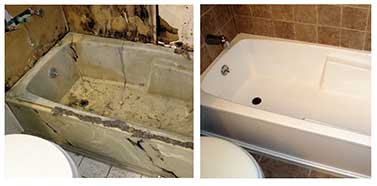 Bathtub reglazing is a process that can drastically enhance the aesthetic appeal and functionality of your tub, offering numerous benefits. Refinishing and resurfacing your bathtub in Edison, NJ could be right for you, and some of the top benefits include:
Extends the Life of Your Tub:

Bathtub reglazing can extend the life of your tub by several years. By addressing surface flaws and applying a new finish, we can restore your bathtub to its former glory, making it more resilient against wear and tear. If you want to extend the life of your tub in Edison, NJ, consider reglazing your tub.

Cheaper than replacement: Opting for reglazing is significantly cheaper than full bathtub replacement. It's an ideal choice for homeowners who want to enhance their bathroom's appeal without breaking the bank. If you want to save money on your bathtub in Woodbridge, NJ, consider reglazing your tub.

You can use your tub the next day: With bathtub reglazing, you won't have to wait for days to use your tub. In most cases, your bathtub will be ready for use the next day, minimizing the inconvenience associated with bathtub replacements

Eco-friendly: Choosing to reglaze your bathtub rather than replacing it entirely contributes to reducing landfill waste, making this an eco-friendly option. If you want to help the environment, refinishing your bathtub is a more sustainable option.

Enhances aesthetics: Bathtub reglazing can transform an old, worn-out tub into a beautiful centerpiece for your bathroom. You can even customize the color to match your bathroom decor. With our refinishing services, we can help you bring out the best in your bathtub.
These are just a few of the top reasons why you need to refinish or resurface your tub, so reach out to our contractor today to get the process started!
Contact Jemco Reglazers to learn about our bathtub restoration services!
Comprehensive Bathtub and Tile Services in Edison and Woodbridge, NJ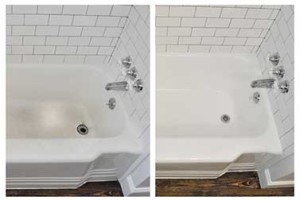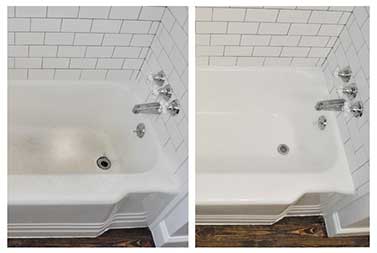 Apart from bathtub reglazing, Jemco Reglazers also specializes in tile reglazing. Over time, bathroom tiles can become dull and unattractive. Our expert team can restore their shine and make them look new again. Whether it's the tile on your bathroom walls, floor, or shower, we can handle it all. We also provide top-notch bathtub repair services. Whether your tub has a small chip or a large crack, our team can repair it with precision. We ensure that the repaired area blends seamlessly with the rest of the tub, making it look as good as new.
As a comprehensive bathtub restoration company in Edison and Woodbridge, NJ, we pride ourselves on our ability to breathe new life into your bathroom. Our services are designed to provide you with a cost-effective solution for improving the look and functionality of your bathroom. We also offer bathtub reglazing in Middletown, NJ and other towns in the area! 
So, if your bathtub needs a makeover, or your tiles require a fresh new shine, get in touch with us at Jemco Reglazers. Our dedicated team is ready to provide you with the top-quality service you deserve. Contact us today for a free quote, and let us show you why we have become one of the most trusted companies in the area!
Call Jemco Reglazers today, the North Jersey bathtub repair experts!