Hudson County Professional Bathtub Refinishing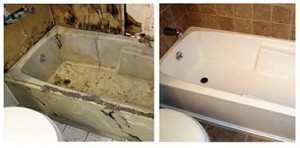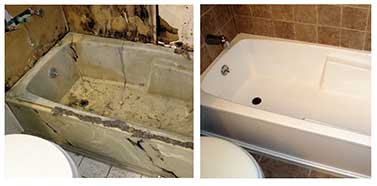 At Jemco Reglazers, we take immense pride in providing an extraordinary solution that breathes new life into your tired and weathered bathtub, eliminating the need for an expensive and labor-intensive replacement. Professional bathtub refinishing stands out as a time and cost-effective alternative to a complete bathtub replacement. Our highly skilled technicians possess the expertise and utilize state-of-the-art techniques required to be in and out quickly, so you can return to life as normal. 
Contact Jemco Reglazers to learn about our bathtub restoration services!
Hudson County Bathtub Repair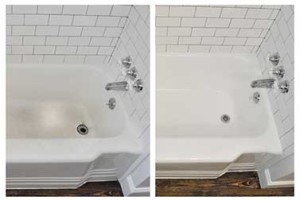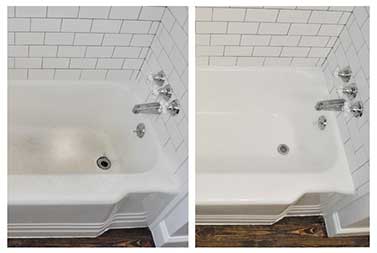 We cater to an extensive array of bathtub materials. Our refinishing process works for tubs made of porcelain, fiberglass, acrylic, and cultured marble. If you need help with bathtub restoration or repair, reach out to us! We offer an affordable solution and you'll be able to use your tub 24 hours after service!
Call Jemco Reglazers today, the North Jersey bathtub repair experts!
The Tub Resurfacing Process
Assessment: A detailed inspection to identify damages or imperfections on the surface.

Caulking Removal: Any damaged caulking is carefully removed from the tub.

Cleaning: Thoroughly clean the tub, sink, or tiles, usually using industrial-grade cleaners or acid etching for effective removal of grime and residues.

Repair Work: Chips, scratches, or imperfections are filled and sanded to achieve a smooth surface.

Masking: Application of masking paper around the tub to protect surrounding areas.

Ventilation Installation: Ensuring proper ventilation is in place for fume dispersal.

Floor Protection: The floor around the tub is covered with a drop cloth to prevent overspray.

Primer Application: Spray two coats of base primer inside and outside the bathtub, allowing it to dry for a specified time.

Resin Coating: Apply three coats of poly-glass resin, creating a glossy finish.

Buffing or Polishing (Optional): Some refinishing processes include buffing or polishing to further enhance the appearance.

Cleanup: Removal of masking and protective materials, followed by cleaning the area.

Reinstallation of Fixtures: Reinstall any fixtures that were removed or protected during the process.

Drying Time: Wait for the recommended drying time before using the tub, usually about 24 hours or until the surface is completely dry.
Call Jemco Reglazers today for a free, no obligation bathtub reglazing service quote!