We Specialize in Bathtub Refinishing & Resurfacing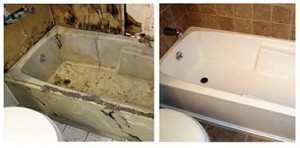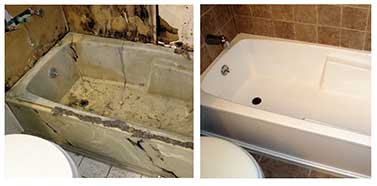 Replacing a bathtub can take days or even weeks and really mess up your life and your pocket. A tub replacement could bring in a demo crew, plumber, drywaller, carpenter and/or painter. These people are going to traipse in and out of your house, causing you stress and creating a mess.
Professional bathtub refinishing is a cost effective alternative to replacing a bathtub that is worn out, rusted, cracked, damaged, or out of style with a dated color. In only hours, our complete tile cleaning and tub revitalization processes can overcome years of unsightly stains and damage. Along with significant savings and overall project simplicity, our specialized tile cleaning and tub resurfacing expertise in Mercer County, NJ provides:
Enhanced bathroom safety: Broken tiles and worn tub surfaces pose cut and fall risks to you and your family. Our like-new tub finishes and tile repairs ensure a consistent surface to prevent slips, sharp edges, and any other potential hazards caused by damaged bathroom materials.
Water-damage prevention: Before the cracks in your aging tub or caulking lead to in-home water damage, our methodical care is the simple way to restore 100% waterproofing. Our impermeable refinishing processes are engineered to last for 10-15 years with simple upkeep.
Lasting home value in Mercer County, NJ: Our affordable care is a wise investment that will pay for itself if you plan on renting or selling your property in the future. Take a look at our stunning gallery of tub, tile, and sink upgrades to preview the superior finishes we can help you achieve. 
Contact Jemco Reglazers to learn about our bathtub restoration services!
Fast & Easy Bathtub Repair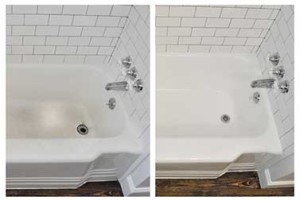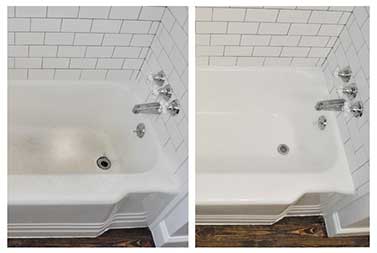 Bathtub repair can be successfully performed on all types of bathtub materials. For example porcelain bathtub repair can look as good as tubs made of fiberglass, acrylic, or cultured marble.
Bathtub repair can save the day! Our tub resurfacing service, sometimes called bathtub restoration or bathtub refinishing, is a low cost solution that usually takes just a few hours and you can use your tub the next day.
Call Jemco Reglazers today, the North Jersey bathtub repair experts!
The Tub Resurfacing Process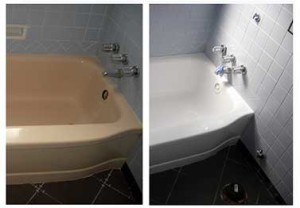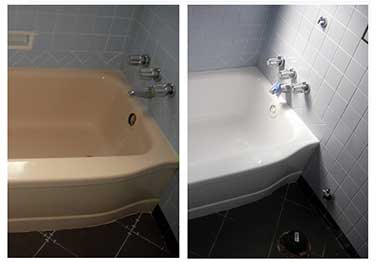 First we check the surface for damages. Any damaged caulking is removed.
We thoroughly clean the tub, sink, and/or tiles with an industrial acid etch. The acid etch brings the enamel to a faintly rough surface, comparable to a chalkboard. We fill any chips, deep scratches, etc with a professional fiberglass and sand to a smooth finish.
We place masking paper around the tub and the overflow plate is removed. The rest of the floor is covered with a drop cloth and then we install a ventilation system. After all this is done, we are ready to begin the process of spraying.
We spray 2 coats of base primer inside and outside of the bathtub and we let the primer dry for about 10 minutes. We spray 3 coats of poly-glass resin, and the finish will be shiny and glossy. The tub will look like new again.
After the job is complete we highly recommend waiting 24 hours or until the surface is completely dry to start using your tub or sink.
This will guarantee a life span of 10 to 15 years with good care.
Call Jemco Reglazers today for a free, no obligation bathtub reglazing service quote!
Why Should You Reglaze Your Tub Rather Than Replace It?
If you have an issue with your bathtub, you might be thinking that you should replace it; however, instead of replacing your bathtub in Mercer County, NJ, consider refinishing or reglazing it instead!
There are a number of reasons why you should consider working with contractors who offer refinishing or reglazing services for a bathtub in Mercer County, NJ instead of replacing your tub. One of the biggest reasons is that it is more affordable to invest in reglazing or refinishing instead of replacing the tub entirely. Furthermore, if you already love the tub you have, you can retain everything you love about your current tub!
If you want to get the most out of your reglazed bathtub in Mercer County, NJ, you need to work with the right team. Our contractors have a significant amount of experience working with tubs of all shapes and sizes.
We Provide Bathroom & Shower Tile Refinishing
While our contractors can reglaze your bathtub in Mercer County, NJ, we also offer a number of other tub and tile repair services as well. For example, if you are looking for an expert who can help you refinish the tile in your shower, we can help you. Or, if you need to refresh and refinish the tile in the rest of your bathroom, we would be honored to help you with that as well!
At Jemco Reglazers, we can help you not only reglaze your tub but also refresh the rest of your bathroom! We have also expanded our services to offer bathtub reglazing in Trenton, NJ as well! So, if you need help with your tub, shower, or the rest of your bathroom, look no further than Jemco Reglazers! All of our contractors are properly licensed and insured, and we can provide you with the resurfacing services you expect and deserve. Give us a call today!