Bathtub Refinishing is Simple & Affordable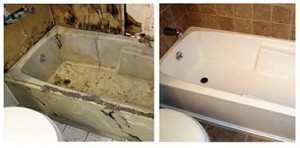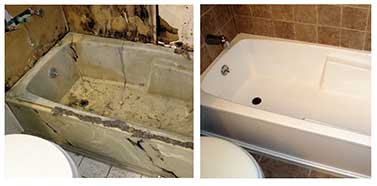 Has your tub seen better days? Does it have rust, cracks, or other types of damage, or is its design outdated? Replacing your bathtub can be a time-consuming process that may disrupt your daily life for days, if not weeks. A bathtub replacement typically involves bringing in an extensive team of demolition experts, plumbers, drywallers, and more. With so many people in and out of your home, it can be a stressful process that results in a considerable amount of chaos.
Opting for professional bathtub refinishing presents a more budget-friendly option. As a simple and effective solution, you'll have your bathroom back to full usage in no time!
Contact Jemco Reglazers to learn about our bathtub restoration services!
Bathtub Repair Services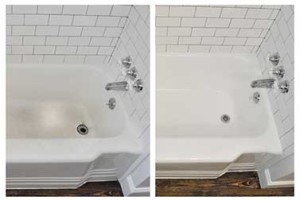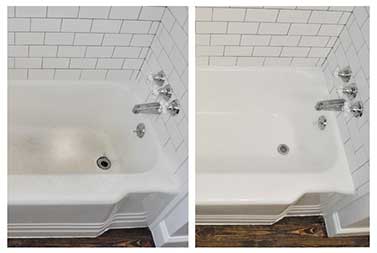 Effective bathtub repair can be accomplished regardless of the bathtub's material. For instance, when it comes to porcelain bathtub repair, the results can rival the appearance of tubs constructed from fiberglass, acrylic, or cultured marble.
Bathtub repair is the solution you need – not replacement. Our tub resurfacing service, sometimes referred to as bathtub restoration or bathtub refinishing, is a cost-effective option that typically only requires a few hours, allowing you to use your bathtub again as soon as the following day.
Call Jemco Reglazers today, the North Jersey bathtub repair experts!
The Tub Resurfacing Process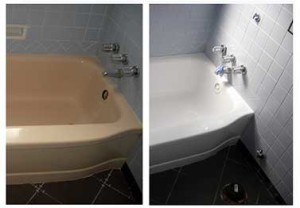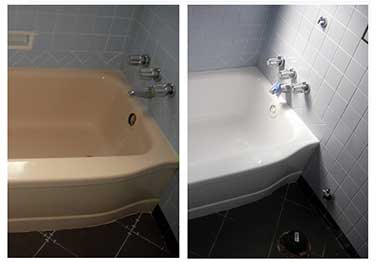 Surface Preparation: The first step involves thorough cleaning of the bathtub. All soap scum, mineral deposits, and other contaminants are removed to ensure a clean and smooth surface. Any existing chips, cracks, or imperfections are repaired using epoxy or filler compounds.
Masking and Ventilation: The surrounding area is carefully masked and protected to prevent overspray and damage to other fixtures in the bathroom. Adequate ventilation is set up to ensure the safe dispersal of fumes.
Primer: A bonding primer is applied to the bathtub's surface to enhance adhesion and create a strong bond between the old surface and the new finish.
Topcoat: After the primer has dried, a topcoat is sprayed onto the bathtub. This topcoat typically consists of epoxy or acrylic-based materials. It can be customized to the color of your choice. We may apply multiple coats to achieve a smooth finish.
Curing: The newly applied finish needs time to cure. It usually takes a few hours to dry and harden.
With proper care, our work should last between 10 and 15 years.
Call Jemco Reglazers today for a free, no obligation bathtub reglazing service quote!
Experienced Tub Refinishers in Middlesex County
When you are looking for tub repair, reglazing, and refinishing services in Middlesex, NJ, rely on our tub restoration company to help you. At Jemco Reglazers, we are proud to provide bathtub reglazing and refinishing in Middlesex County, NJ, and it would be our pleasure to serve you as well. We even offer bathtub reglazing in Edison, NJ, so we are confident that we can take care of you!
Before you order a new tub or sink, utilize our repair and restoration experts to evaluate the true extent of the issue. In the majority of damaged or aging bathroom situations in Middlesex County, we can restore all surfaces to their like-new condition.
Alongside restoring the reflective finish with a fresh tile cleaning or tub glazing, our all-inclusive care refortifies the integrity of your waterproofing properties. Engineered to last for longer than a decade with basic maintenance, our superior tub finishes shield your home from invasive moisture, avoidable material replacements, and other serious issues that can arise from neglected bathroom surfaces.
Whether you need a cost-saving crack repair or a sparkling tile cleaning to revitalize the energy of your space, there's no surface challenge beyond the scope of our restoration expertise. With all refresh projects, our reglazing pros in Middlesex County, NJ guarantee:
Leak-free finishes ready to use in 24 hours
Family-safe resurfacing processes
Tidy, efficient, & courteous service
A like-new aesthetic that enriches the value and longevity of every tub or sink we improve!
Our bathtub reglazing and refinishing in Middlesex County, NJ is second to none, and it would be our pleasure to show you why. If you are ready to restore your bathtub and tile in Middlesex County, NJ, rely on our contractors to help you! We can make your bathtub look like new again, so reach out to our team to learn more!
Benefits of Reglazing Your Bathroom Tiles
When you need help with your bathtub tile, you need to invest in reglazing and refinishing services. Some of the top benefits of restoring your bathroom tile include:
Remove Stains and Blemishes: This is one of the best ways to get rid of unsightly stains that might catch your eye when you walk in.

Mold and Mildew: This is also a great opportunity to get rid of mold and mildew that you might have had a hard time getting rid of.

Save Time: You can also save time by reglazing your tile instead of replacing it. Our contractors will work quickly to make sure you get your bathroom back as quickly as you can.

Save Money: You can also save money if you reglaze your bathroom tile. When compared to the cost of getting new tiles, reglazing your existing tile is less expensive.
If you are ready to restore your bathroom tile and make your home look as good as new once again, reach out to us today! At Jemco Glazers, we would be honored to help you.