Monmouth County Professional Bathtub Refinishing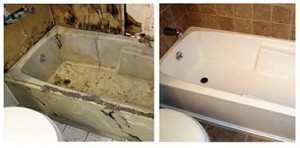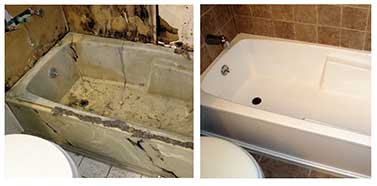 Replacing a bathtub can take days or even weeks and really mess up your life and your pocket. A tub replacement could bring in a demo crew, plumber, drywaller, carpenter and/or painter. These people are going to traipse in and out of your house, causing you stress and creating a mess.
Professional bathtub refinishing is a cost effective alternative to replacing a bathtub that is worn out, rusted, cracked, damaged, or out of style with a dated color.
Contact Jemco Reglazers to learn about our bathtub restoration services!
Monmouth County Bathtub Repair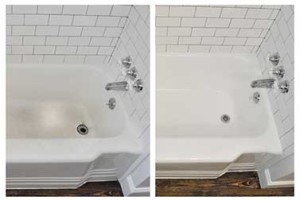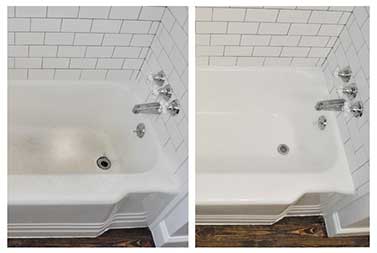 Bathtub repair can be successfully performed on all types of bathtub materials. For example porcelain bathtub repair can look as good as tubs made of fiberglass, acrylic, or cultured marble.
Bathtub repair can save the day! Our tub resurfacing service, sometimes called bathtub restoration or bathtub refinishing, is a low cost solution that usually takes just a few hours and you can use your tub the next day.
Call Jemco Reglazers today, the North Jersey bathtub repair experts!
The Tub Resurfacing Process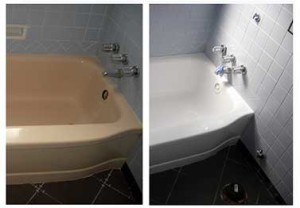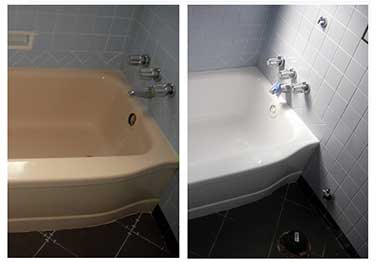 First we check the surface for damages. Any damaged caulking is removed.
We thoroughly clean the tub, sink, and/or tiles with an industrial acid etch. The acid etch brings the enamel to a faintly rough surface, comparable to a chalkboard. We fill any chips, deep scratches, etc with a professional fiberglass and sand to a smooth finish.
We place masking paper around the tub and the overflow plate is removed. The rest of the floor is covered with a drop cloth and then we install a ventilation system. After all this is done, we are ready to begin the process of spraying.
We spray 2 coats of base primer inside and outside of the bathtub and we let the primer dry for about 10 minutes. We spray 3 coats of poly-glass resin, and the finish will be shiny and glossy. The tub will look like new again.
After the job is complete we highly recommend waiting 24 hours or until the surface is completely dry to start using your tub or sink.
This will guarantee a life span of 10 to 15 years with good care.
Call Jemco Reglazers today for a free, no obligation bathtub reglazing service quote!
The Benefits of Bathtub Reglazing
Are you looking for a way to refresh and restore your bathtub in Monmouth County, NJ? If so, you need to consider investing in refinishing and reglazing services for your tub. At Jemco Reglazers, we are proud to be the top tub and tile refinishing and reglazing company in the local area, and we can help you with your tub restoration needs as well.
Some of the reasons why you need to invest in refinishing and reglazing services for your bathtub in Monmouth County, NJ include:
Cost-Effective: It is always less expensive to invest in repair, refinishing, and reglazing services for your bathtub when compared to replacing the entire thing.
Surface Restoration: You can also take care of small chips or cracks in the surface of the tub with reglazing and refinishing services. This is a versatile repair option for your tub.
Save Time: You can also save time by refinishing and reglazing your bathtub in Monmouth County, NJ. It is faster to reglaze your tub than it is to replace it.
For all of these reasons, count on Jemco Reglazers if you need help with your tub and tile.
Tile Refinishing Experts in Monmouth County, NJ
At Jemco Reglazers, we can address a variety of issues with your tile and bathtub in Monmouth County, NJ. If you need help with tile refinishing, our experts are here to help you. We have worked with countless types of tile over the years, and we can lean on our experience to help you fix issues with your tile as well. If you have cracks, stains, blemishes, mold, or mildew, we can address all of these concerns. We customize our services to meet your needs and make sure that you are never surprised by a bill from us. We pair exceptional customer service with transparent pricing, and we are proud to provide bathtub reglazing in Middletown, NJ as well. If you are ready to restore your bathtub, give us a call today!